Safe Strategy
Between 2003 and 2016, there have been more than 200 different instances of CEOs buying at least $1 million of their own company's stock. Filtering out some penny stocks and other aberrational purchases, what was left showed meaningful jumps: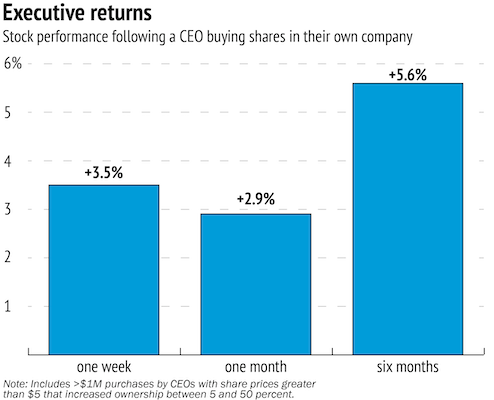 There is a decent six-month return, but it's not that much more than what came in the first week. That means the majority of returns comes immediately: It's a nice way to grab a quick pop. More money was made in the first week than the 25 weeks after that.
In addition to those seven-digit purchases, broadening search criteria find a similar pattern following purchases of $250,000 or more. There were more than 800 instances of this since 2003.
Curated
The Securities and Exchange Commission (SEC) requires insiders to disclose whenever there is a material change in their holdings. Insiders consist of directors and officers of a company, as well as any shareholders, owning 10% or more of the company's outstanding stock.
Thousands of disclosures are made every day. We go through all of them for you and keep only buys that matter: when a CEO uses its own money to buy shares at the market price. We only keep disclosures above $1,000 from companies listed on the Nasdaq or the NYSE. No penny stocks. You can further drill down the results with our advanced search feature to receive tailored notifications.
Real-Time
Timing matters! The first price bump happens really fast, so you have to jump on it quickly. We check for new disclosures every minute so you can receive notifications in real-time. You can receive notification via email or text, once your phone number is verified.
Developer Friendly
Are you building your own trading bot or do you need to access our data programmatically? Let's have a chat, we can help! Please contact us at contact@ceo-buys.com.